Director General
Update: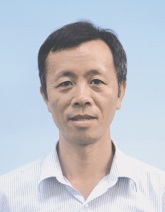 Director of Printing Plant, Ministry of Finance
Mr. Li, Xiao-Chun
Education:
MA of Public Administration, National Chi Nan University
Experience:
Experience: General affairs office director, Printing Plant, Ministry of Finance
Business section chief, Printing Plant, Ministry of Finance
Deputy director, Printing Plant, Ministry of Finance
Current position:
Director of Printing Plant, Ministry of Finance
Director's Letter
The policy tasks undertaken by the Plant are, in line with business tax collection, to handle related business such as the printing and selling of uniform invoices and redemption of the invoice prizes. At the same time, in order to strengthen revenue, we actively undertake the printing-related business of public and private business units, to continuously maintain self-sufficiency, and the surplus is collected for the national treasury. The plant has been established for nearly 70 years. In order to promote Taiwan's printing cultural heritage, in 2014 we established the only printing-themed tourism factory in Taiwan, Taiwan Printing Discovery Center, which is rich in educational content.
In recent years, we have cooperated with the government's promotion of the electronic invoicing policy, and at the same time actively developed business transformation under the challenges of paperless, digitalization and industrial greening. Starting from the improvement of management quality, we have improved quality management, implemented ISO 9001 quality management system and ISO 27001 information management system, and strengthened the uniform invoice management system. At the same time, we have established a D.C.I.T. team to develop new products through the chain-link innovation model, and locked in five research and development areas such as information technology application, cutting-edge anti-counterfeiting technology, security anti-counterfeiting printing, special printing, and process improvement, obtaining a number of patents. In terms of market development, we use the competitive advantages of the existing anti-counterfeiting and management and control to continuously improve the anti-counterfeiting technology that is easily identifiable, difficult to replicate and single-use. We can provide a number of products to protect consumers' rights of purchasing genuine products. We also provide the most effective services for the government's confidentiality, regulatory and policy printing needs, to create the "business synergy" and "policy effects" of state-owned enterprises.
In order to promote industrial greening, we actively improve the Plant's operating environment and clean production technology, and obtain the certificate of the Green Building Label. In 2017, the roof-top solar parking lot was built to reduce the use of energy. All relevant products are designed and improved according to their characteristics for resource-saving, miniaturization, lightweight, uniformity and standardization. We are ISO 14001 Environmental Management-certified and have passed ISO 14064-1 greenhouse gas – Part 1 verification, to fulfill the social responsibility of a state-owned enterprise.